Not many people know this, but one of my first jobs (that I held for over 3 years during high school) was at our local kebab shop in Stafford! For me it was a wonderful experience working for, and with, a lovely Turkish family and gaining a sincere introduction to Middle-Eastern cuisine. Falafels are still one of my favourite foods – check out one my falafel recipe here. But I also just loved all the different spices used in Middle-Eastern cooking. So, when I got some lamb mince on special at Sherwood Rd Organic Meats, I just had to make some Lamb Kofta!
You could use any kind of mince you have in the frige/freezer (chicken, pork, beef, turkey, or a mixture) but lamb lends itself particularly well to the flavours in this lamb kofta recipe.
Recipe Type: GF, DF, RSF, Paleo
Serves 4
Time  45 min
Ingredients:
500g Lamb Mince
1 small red onion, finely chopped
2 t minced garlic
2 T finely chopped mint leaves
2 T finely chopped parsley
1 t paprika (ideally sweet but if you only have smoked that will be fine)
1 t ground cumin
1 t ground coriander
1/2 t cayenne pepper or chilli (or to your preference)
1/2 t sea salt
black pepper to season
To Serve
Roasted Eggplant and/or other roast veggies (cauliflower, pumpkin, cabbage are delish)
Green salad (chopped tomato, cucumber, capsicum, lettuce, parsley, mint, lemon/pepper/olive oil dressing – can also add cooked broccoli, cauliflower and raw cabbage to bulk it out)
tzatziki (I just mix some yoghurt with lemon juice, mint leaves, salt, pepper, minced garlic)
optional – pita bread/wraps/lebanese bread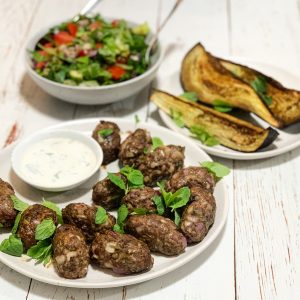 Method:
Heat a BBQ or griddle pan to medium-high heat (or preheat an oven to 180degC).
In a bowl, mix all ingredients together with your hands, making sure all ingredients are evenly mixed through the mince.
Use your hands or a 1/3 cup measure to scoop out small portions of the mixture and form into sausage shapes. ** You can use bamboo skewers to skewer the kofta which is more traditional, but I didn't have any; if you do use skewers make sure you soak them in water for 30 mins so they don't burn when cooking**
Once all the mixture is formed into sausage shapes/skewers, grill each lamb kofta on the greased grill for 3-4 minutes on each side so they're golden brown on the outside and a little pink on the inside still. Alternatively, bake in oven for 15-20mins.
Serve lamb kofta with your choice of (or all of) tzatziki, roast eggplant, green salad, wraps/lebanese bread.