Cooler weather calls for warmer food. Enter Lasagne. This crêpe lasagne to be exact!
I was pretty happy with how this idea in my head turned out in the end, if I do say so myself!  The crêpes hold together nicely and are much more pasta-like than the other times I've tried to make a lasagne using vegetables like eggplant and pumpkin as the pasta layers (really turned out more like a veggie & meat bake rather than lasagne). I think this is a winner for future lasagne recipes. PLUS I had left over crêpes, MASSIVE WIN!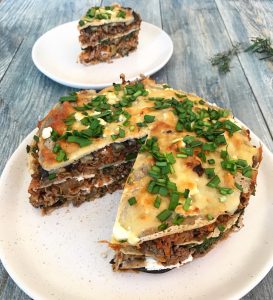 PS next-day left overs are the bomb, and if you prefer a traditional, rectangular shaped lasagne then just trim the crêpes once cooked to fit the your lasagne dish.
Recipe Type: GF, DF, Paleo
Serves 4-6
Ingredients:
For the Crepes
The rest
1 brown onion, diced
2 cloves garlic, minced
4 swisse or brown mushrooms, chopped
500g organic, grass fed mince of choice (beef, lamb, pork, turkey, chicken, kangaroo etc.)
1 C passata
1 tsp Meadow & Marrow Bone Broth (natural or curry)
1 grated carrot
1 grated zucchini
you can also throw in some grated broccoli/cauliflower stalks if you need to use them up
1 T chopped fresh rosemary
1 t fresh thyme chopped
salt and pepper to season
1 small eggplant, sliced thinly
1 cup raw kale, roughly chopped
1/2 C grated cheddar cheese or grated vegetable cheese
1/2-1 C crumbled goat's feta or cauliflower cheese sauce

Method:
Preheat conventional oven to 175 degrees celsius.
Prepare the crepes per my basic buckwheat crepe recipe.
In a large skillet or fry pan, sauté the diced onion, garlic and mushrooms in some Extra Virgin Olive Oil until onions are translucent and mushrooms are soft.
Add the mince, rosemary, thyme and brown, ensure it's all broken up.
Add the passata, bone broth, grated vegetables, stir to mix through.
Allow to simmer for 15 minutes.
While the mince mixture is cooking, in a separate skillet, heat some EVOO and grill the eggplant slices in batches until lightly browned on both sides. Remove and set aside until needed for assembly.
Grease a 22cm spring form cake tin with EVOO.
Place 1 crepe in the base of the cake tin. Top with 1/3 of the meat mixture, half the cooked eggplant slices and a handful of crumbled feta.
Place another crepe on top of this mixture. Top with another 1/3 of meat mixture, a handful of the raw kale and a handful of the feta.
Add another crepe. Top with the last of the meat, the rest of the eggplant any kale you have left and some more feta.
Add one final crepe on top. Spread the grated cheese evenly over the top.
Place the spring form cake tin in the oven and bake for about 25mins or until the cheese is golden.
Serve with a fresh salad or steamed greens and some fresh chives or parsley.