Ribs… They have to be one of the most fun, yet most messy things to eat. But that's the whole point right? Haha! Many people associate ribs with take-away and unhealthy food but actually, they can be just as good for you as any other cut of meat. It all depends on the quality of the animal/meat you use,  what you cook them in and what you eat them with.
Meat Quality – whether you're cooking pork, beef or lamb ribs always ensure your meat is free-range and grass fed where possible. Local farmers markets are usually a great place to source these. I use Backfatters Heritage Free Range Pork in this recipe.
What you cook them with – avoid cooking the ribs in sauces that are high in sugar (be it added sugar or natural sugars like honey and maple syrup).
What you eat them with – opt for a homemade mash and fresh salad instead of the typical chips that have been deep fried (usually in hydrogenated, poor quality vegetable oil).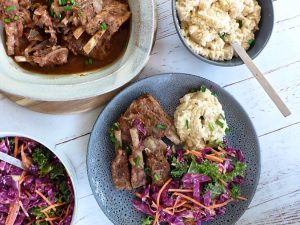 Recipe Type: GF, DF, Paleo
Serves 4-6
Ingredients:
Ribs:
~1kg free range pork ribs (or beef or lamb if you prefer)
1 C passata (or crushed tomatoes)
1 C water or bone broth
1 onion, roughly chopped
3 cloves garlic, crushed
2 bay leaves
1-2 t ground cumin
1 T dijon mustard
4 t smoked paprika
1 t dried rosemary, or 1 sprig fresh
salt and pepper to season
Slaw:
1 small head of red cabbage (or 1/4 large head), shredded
2 medium carrots, julienned
1/2 capsicum, julienned
3 C kale leaves, thinly chopped
2 T Mayonnaise
Juice of 2 Lemon
Cauliflower or Broccauli Mash: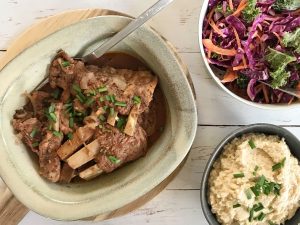 Method:
For the Ribs:
Preheat oven to 180degC
Place all ingredients except the ribs into a deep casserole dish, roasting pot or Dutch oven. Give them a bit of a mix with a wooden spoon.
Add the ribs and generously coat with the sauce.
Place the lid on the pot/casserole dish (or cover with foil). Cook for 2-2.5 hours.
Serve hot with slaw and mash.
For the Slaw:
Chop/prepare vegetables as described above (shredded/julienned/finely chopped). Place in a large salad bowl.
In a small bowl, whisk the Mayonnaise and lemon juice together.
Pour Mayo mixture over the salad and toss to coat/combine.
Serve
For the Mash:
Prepare cauliflower or broccauli mash per recipe here.