Looking for something a little different this Christmas? Either for Dessert, or to take to the work Christmas party, morning tea, or gathering with friends? These Festive Florentines are a great option.
This recipe is gluten-free, dairy-free and vegan!
If you like this recipe then have a look at my other Christmas recipes here!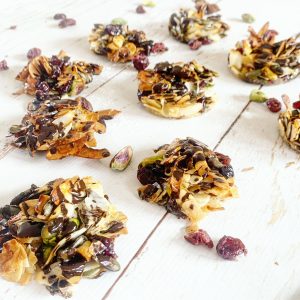 Ingredients (makes about 6-8 florentines:
3/4 C coconut flakes
3/4 C flaked almonds
1/4 C pistachios
1/4 C pepitas
1/3 C cranberries
3 T tapioca flour
zest of 1 lemon
2 T lemon juice
2 T honey (use maple syrup for Vegan)
2 T coconut oil
50g dark chocolate
Method:
Preheat oven to 180 degC.
In one mixing bowl, combine all dry ingredients (except chocolate)
In another mixing bowl, combine all wet ingredinets (except chocolate).
Mix wet with dry and combine well.
Use a table spoon to portion out the mixture on a lined baking tray. Alternatively you can use a cookie-cutter to help form shape, or place in the bottom of a silicone muffin tray for shape.
Bake for 15 mins or until golden (be careful not to burn).
Remove from oven and allow to cool.
Melt the chocolate over a double boiler. Drizzle over florentines and refrigerate to firm the chocolate up.
Store in an air-tight container in the fridge.