Port Stephens really is one of Australia's best kept secrets. I think part of the reason is because it's a tad out of the way and off-the-beaten track. Situated at the end of the Tomaree peninsula (about 40 minutes north of Newcastle), Port Stephens is home to some of the most spectacular beaches and sand dunes in the world.
Under the umbrella of Port Stephens Shire Council, you'll find different towns/suburbs like Anna Bay, Nelson Bay, Shoal Bay, Fingal Bay, One Mile Beach, Boat Harbour, Medowie, Soldiers Point, Salamander Bay and many more. I'm lucky enough to call Anna Bay my "second home" as I have family that have lived there for many years now, thus I usually visit 1-3 times each year.
Getting There
To get to Port Stephens, just head north on the Pacific Highway from either Sydney or Newcastle, then take the Tomago Rd right-hand turn and follow the signs to "Nelson Bay". You'll end up on a long road called Nelson Bay Road which runs right out along the peninsula to Nelson Bay (go figure). You can also fly to Newcastle (Williamtown) airport, which is actually only 20 minutes from Port Stephens, along  Nelson Bay Road!
The Beaches
Port Stephens' beaches are hands down, SPECTACULAR! There are a great deal of national parks around the region which means the beaches are untouched and nestled amongst a lot of nature (rather than loads of high-rises and hotels).
There is also a great variety of beaches to choose from, depending on the weather conditions, your mood and swimming/surfing ability. For example, beaches like One Mile, Birubi, Zenith and Fingal Bay can be really great surf beaches for those who love the waves, surfing, boogie boarding and bodyboarding.
However, if you're after something more protected for small kids and less confident swimmers then Anna Bay Beach, Boat Harbour, Shoal Bay, Fingal Bay, Bagnall's Beach and other little spots within the port are great options.
"Things to Do" in Port Stephens
BEACH
If you're anything like me then the BEACH TIME will be your number 1 priority in a place like this – swimming, surfing, body surfing, walking on the sand, reading my book, making sandcastles, smashing sandcastles down, digging holes, catching up with my family etc. My personal favourite beach is the Anna Bay/Birubi Beach combo because you've got a great sheltered section that is good for kids, paddling etc, as well as 32km of surf beach to go for a nice long walk. There are also plenty of rock pools to explore!
If you don't have your own then you can hire surf boards and Stand-Up Paddle Boards (SUPs) or learn to surf/SUP with Port Stephens Surf School.
WALKS & HIKING
I'm a big fan of walks, hiking and just being outdoors in general, and Port Stephens has plenty to keep me going!
First up is my favourite Tomaree Mountain walk, out of Shoal Bay. Tomaree Mountain is the south head to the port of Port Stephens itself. It's a steep walk but only takes 20-30 minutes and gifts you with THE most gorgeous view of both the Pacific Ocean as well as the port when you reach the top (see the first 2 photos in this post for the view).
My second favourite walk to do is one you need to do (mostly) barefoot; crossing the Fingal Spit at low tide to explore Fingal Island! Fingal Island is normally separated from the mainland (at Fingal Bay) by a small stretch of water, however, the sea's recession at low tide exposes a narrow strip of sand ("the spit") which you can walk across!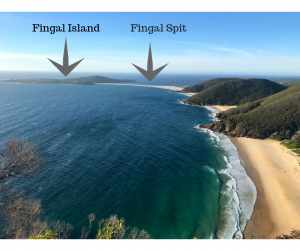 Drive to Fingal Bay, park your car, then head out for some fun. Oh, make sure you take water! Once you get to the island, you might want to put some thongs on as it can be a little rocky.
Follow the path at the island and you'll come across some information boards telling you about the history of the island and its lighthouse. Explore until your heart's content, maybe take a picnic if you like (just don't leave any rubbish) and make sure you give yourself plenty of time to get back before the tide starts coming back in!
The Tomaree National Park has many beautiful trails for you to explore, and from Nelson Bay there are some lovely footpaths you can follow that hug the waterfront and take you out to Shoal Bay.
Yaccaba Mountain is the 'north headland' of Port Stephens. Like the south headland (Tomaree Mountain) you can also walk to the top of Yaccaba. However, you'll need to catch a ferry across the bay from Nelson Bay to Tea Gardens to be able to do that walk.
The Worimi Conservation Lands (Stockton Bight Sand Dunes) is a 32km stretch of moving sand dunes between Anna Bay, all the way down to Stockton. The dunes cover 4,200 hectares and are the longest moving sand dunes in the southern hemisphere! A walk down this beach or on the sand dunes will show of their majestic and rolling hills which are just magnificent!
You can also book a 4WD sand tour, get a 4WD permit to explore them yourself, hire a quad bike, go camel or horse riding, and even do some sand boarding! Check out all the info about the dunes here.
WINERIES, BREWERIES & DISTILLERIES
As a professional beer brewer in a past career, I love to taste the local beers in places where I travel, and (if possible) visit craft breweries. Port Stephens is fortunate to be home to the delicious Murray's Brewing Co. which I've been visiting for over 10 years now! Murray's is the brewer of my favourite Whale Ale, Angry Man's Pale Ale, Fred IPA as well as an EXTENSIVE seasonal range (including beers like Coco Hops, Lamington Beer, Green Apple Berliner Wiesse, Sassy Blonde Belgian Pale and dozens more).
Murray's is also home to Port Stephens Wines, and more recently the Gentleman Smith Vodka and East Coast Gin. I personally find their beers are their best product but it's great to be able to cater for those who prefer other drinks.
Stop-in for a tasting, lunch (the food is DELICIOUS) and some live music in the sun, amongst the vines (Murray's has live music most weekends), it's a great day out.
The Hunter Valley is only a 2 hour drive from Port Stephens, so you can also spend a day exploring the wineries, breweries and cider houses there.
HUNTER VALLEY HORSE STUD & WINE TOURS
The Hunter Valley is known by most for its fabulous wines. However, did you know the Hunter Valley is also the 'Horse Capital' of Australia as it is home to some of the largest and most profitable horse studs in the country.
My uncle, Craig Benjamin, runs Upper Hunter Tours which operates tours of the horse studs (with a few wineries thrown in for good measure of course!). Craig took me and some other family members on a tour in late 2018. We saw the beautiful properties of Coolmore and Godolphin (owned by Sheikh Mohammed bin Rashid Al Maktoum, Vice President and Prime Minister of the United Arab Emirates and Ruler of Dubai) as well as some of their most magnificent residents in thoroughbred mares and stallions.
Thoroughbreds are such beautiful, fit and skilled animals, if you've never been up close and personal with one I highly recommend heading along on a tour yourself!
After lunch in Denman, we headed to Two Rivers Wines for a tasting before making our way back to Port Stephens. A day well spent with family in a beautiful part of Australia.
Check out Upper Hunter Tours for more information about tours in the Hunter Valley including tours of Thoroughbred Studs, Beltrees, Widden Valley, Scone Area, Denman Area, Over the Tops, and Mulawa Arabian Stud.
Where To Stay (Perfect for Families too)
There are plenty of accommodation options in Port Stephens, no matter what your budget or travel style is.
Holiday Parks & Camping – There are holiday parks in just about every suburb of Port Stephens, including Anna Bay, One Mile, Shoal Bay, Soldier's Point and Nelson Bay as well as many more I'm sure. The proximity to the beach, combined with activities, makes these options great for families with kids.
Holiday Rentals – No shortage of holiday rentals either. I've booked in the past though Airbnb, Stayz and wotif.com, all great experiences.
Hotels and resorts – If you're after something a little more upmarket then there are some beautiful resorts to stay at as well like Amarna in Nelson Bay, Ramada in Shoal Bay and Hotel Nelson in Nelson Bay. I've never stayed in any of these before so if you do, or you find another great one please let me know so I can update this section!
Where To Eat & Shop
When I go away I usually book a property for a week or so and do most of the cooking/meals myself, then just eat a few special meals out. Thus, I'm always wanting to know where the supermarkets are! In Port Stephens, the main shopping centre is in Salamander Bay and has a Woolworths, Coles, Aldi, Kmart and  some specialty stores. There's also a Woolworths in Nelson Bay, and an IGA in Anna Bay.
When it comes to eating out I do have some favourite spots in Port Stephens: