Holiday breaks are good for the soul, for your cultural growth, but what do you do if you don't have a big budget? You could keep on working and saving for that big break, or treat yourself to a trip away on the cheap. The idea of travel doesn't have to mean faraway places over the sea. Yes, travel does bring to mind faraway and exotic destinations but there are often some fabulous locations your own backyard as well. Many Australians have seen more of the rest of the world than their own, extensive land without realising what they're missing. So whether you stay local or sail away for a year and a day, there's no shame in saving money on a holiday, and travelling on  a budget. You can have a vacation that doesn't break the bank if you take advantage of the following tips.
1. Look For Booking Bargains
Be aware that the travel industry runs on negotiation because what they sell is sensitive to time. An empty airline seat that's cancelled or not filled can be available the next day, and the same goes for hotel rooms. This is where you can nab a bargain, especially if you book at the last minute. And when you are booking, negotiate a reasonable price with hotels, travel agents and tour operators. Consider going in the off-season. And while last-minute bargains can be had, booking early has its attractions as well.
Sites like Airbnb are also a great way to find accommodation that maybe more homely (and less like a hotel), you can even just rent a room in someone's house. Another way to save on accommodation is to consider Housesitting or Houseswapping.
2. Search For Hot Package Deals
The good thing about package deals is they're often a great way to save money on a holiday since the tour operators want to sell you a trendy trip with one that is less popular. You should do your research before committing to a package deal, and when you find one that's ideal for you, the benefits could be many.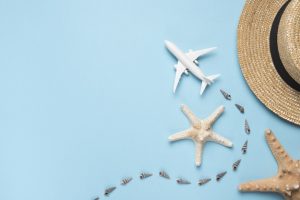 3. Travel In-Between Seasons (and in the off-season)
Between seasons is a great time to go on a budget holiday, especially if you want to spend it by the sea or at a ski resort. You could save a lot of money doing it this way because the weather will probably be mild and you won't be overcrowded by other tourists. Another cost-saving aspect is that booking rates are lower to attract holidaymakers with businesses and venues around the area likely drop their prices as well.
4. Do Your Own Cooking
Meals in hotels and restaurants, truck stops and roadside stalls will drain the money from your bank in no time, so do the cooking yourself!  As a nutritionist, this is a key way to ensure you stay healthy while you're travelling. Whether you're camping and cooking up delicacies in your camp oven, or making the most of the kettle, microwave and tiny stove top in your motel, you'll save loads by cooking for yourself.

5. Make it a Work Holiday
If you work from home, you're laughing. You can take your work with you wherever you go, providing you take your laptop, phone and anything else you need. If you work in an office or business, try convincing your boss to let you attend a conference, to do some research for the firm, or you might be able to take a sabbatical. If you're a startup, a trip overseas to see what your competition is up to, or to discover new trends and methods, might be tax deductible. If you need to work out how much you'll need in the bank for such a venture, try using a savings calculator.
6. Take Advantage of Freebies
While it's said there's no such thing as a free lunch, there are plenty of things you can do on holiday that don't cost anything. If you decide on the activities and comforts you value, and your upfront costs, you can travel far and for long periods. You can see some of the most beautiful sights and experience some incredible things you never thought possible. The trick is to avoid tourist traps. Popular tourist attractions are great, but be aware that whole marketing teams work hard on ploys to get you to part with your money. So don't get sucked into doing what you don't want to do. Plan your visits, know the costs, and only spend what you can afford, even if you feel you should splash out just because you're on holiday.
Finally, an important part of your budget travel planning if you're going overseas is to make sure you've taken out appropriate life insurance as well as travel insurance. You may also with to visit your travel doctor to discuss whether you may want vaccinations for your travel.
Welcome! You've landed on Penny Benjamin's website. I'm a nutritionist who is passionate about empowering people through education, knowledge and skills to feed themselves and their families healthy, delicious meals with 'real food' so they can live happy, healthy lives. I also have a travel blog so check it out. Feel free to say hi and ask any questions you like! Either fill in the form, send me an email directly to penny@pennybenjamin.com.au or phone +61 401 638 667.