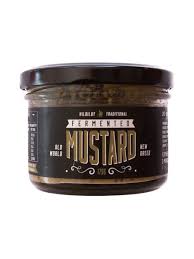 Fermented Mustard with FIRE TONIC ® – 175g
$15.00
Mustard goodness fermented in FiRE TONiC ®
Available on backorder
Description
Hilbilby Cultured Food's larger format aged traditionally lacto-fermented [LF] probiotic mustard begs the question; how can something that tastes this good, be good for your gut?
The depth of 'mustardy' flavour here is unparalleled & with the addition of real deal Original FIRE TONiC ® has gone levelled up again.
All Natural – Dairy Free – Wheat Free – Gluten Free – Soy Free – No Additives – No Preservatives – No Numbers
CAUTiON: this product is alive & would like to escape the jar if possible, please keep refrigerated.
Recipes
Ingredients
FIRE TONiC ®, Mustard Seed, Active Water Kefir, Lemon Juice, Rapadura Sugar, Himalayan Pink Mineral Salt
CLICK HERE for Fire Tonic FAQs.
Fermented Mustard Features and Benefits
potent immune booster
metabolic stimulant
recommended as daily health tonic 5ml – 15ml 1 – 3 times per day.
Additional information
| | |
| --- | --- |
| Weight | .2 kg |
| Dimensions | 10 × 3 × 12 cm |